Boulder & Field Stone Walls
Concrete walls are important structures in a property. Such walls not only serve safety benefits (particularly in preventing loose or uneven soil from sliding or disintegrating), but decorative purposes, too.
However, many properties have ordinary looking and unattractive concrete walls installed. While they could be fine practically speaking, they still have much to possess to become pleasing to the eyes. So why settle for ordinary concrete walls if you can have more elegant and sturdy walls?
Here at Brick by Brick Pavers and Landscaping, we highly recommend boulder and field stone walls to our clients because of several good reasons.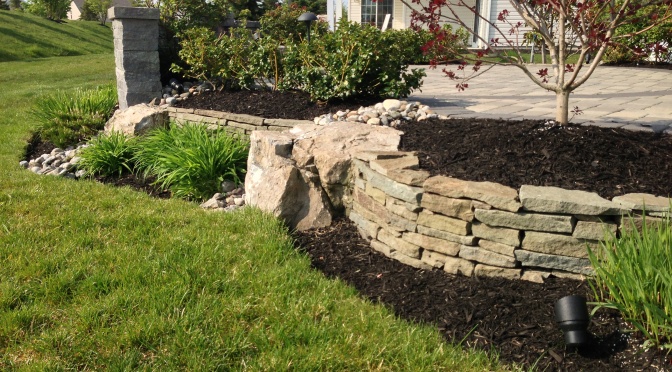 BENEFITS OF BOULDER AND FIELD STONE WALLS
If you're not satisfied with the bland looking concrete walls that you have in your outdoor area, or if you still don't have any, worry no more. Whether you wish to upgrade the look of your concrete wall or you want to have one built, we can build stunning boulder and field stone walls for you just the same.
Here are some great reasons why we recommend these building materials:
Economical: Boulders and field stones are arguably the most affordable materials for retaining and perimeter walls. The cost per square foot when using these materials is significantly lower than with manufactured modular blocks. If you have a large area to cover, you can actually save thousands of dollars by using boulders and field stones instead.
Timeless appeal: You can never go wrong with boulder and field stone walls. This is because walls made of boulders and field stones are among the oldest, if not the oldest wall type. Hence, choosing them over other wall materials will give your outdoor area that timeless appeal that your guests will surely appreciate.
Sturdy: When done by the right people, boulder and field stone walls can actually last for decades, a century even!
Versatile: They come in various colors, sizes, and textures. This gives you greater freedom of choice and allows our workers to achieve various looks by putting together attractive combinations of field stones and boulders.
WHY HIRE US FOR YOUR BOULDER AND FIELD STONE WALLS NEEDS?
Creating a boulder or a field stone wall should only be handled by experienced masons. Fortunately for our clients, we have some of the best masons who can install the walls without posing any structural threat to existing structures in the area. These workers are highly trained and have decades of experience working in some of the toughest boulder and field stone walls installation projects in New Jersey.
We also use top quality materials for our projects. We source them from reputable suppliers in the country. These are premium materials and among the most preferred building materials by top landscaping companies across the country because of the aesthetic appeal that they provide.
So waste no time and hire us for your boulder and field stone walls needs! Just give us a call or drop by at our office today for inquiries and our friendly staff will be glad to assist you.