Outdoor Kitchens
OUTDOOR KITCHENS
One of the best places to stay in outdoors is the outdoor kitchen. For many homeowners, it's not just a place for grilling barbecues or baking pizzas but also for relaxing, entertaining guests, and dining.
Outdoor kitchens are flexible. They can be custom built to any size, shape, or design. They can be constructed using a variety of materials, too. All of these are only possible if you have an expert doing your outdoor kitchen planning, design, and installation.
For New Jersey homeowners, a company that you can rely on is Brick by Brick Pavers and Landscaping. We can make outdoor kitchens that are based on your taste, lifestyle, and budget. Our design and construction team can build a stunning outdoor kitchen that will also add functionality to your outdoor living space and boost the value of your property.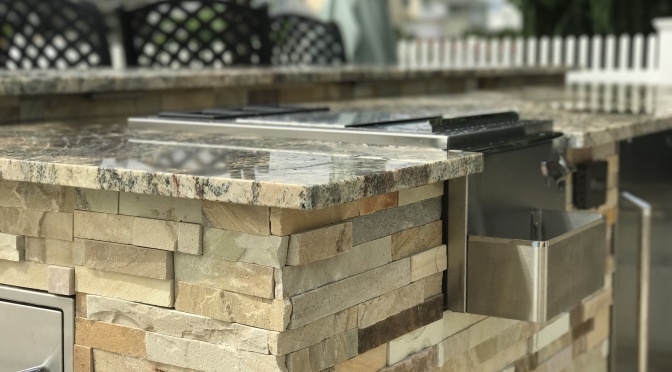 OUTDOOR KITCHEN DESIGNS
Just tell us what you want for your outdoor kitchens, and we'll design it based on your specifications. You can also choose from the common design options for this particular outdoor living space. You can choose from:
Patio outdoor kitchen – If you have a patio or lanai, why not turn it into an extension of your indoor kitchen. You can use it for get-togethers with family and friends or for some alone time. Brick by
Brick Pavers and Landscaping can remodel your patio into an extraordinary outdoor entertaining and dining area!
Pool outdoor kitchen – We can turn your pool area into a resort-like oasis. We can even add a fire pit or fireplace to make your poolside gatherings more comfortable.
Open outdoor kitchen – If you don't have a patio or a pool, another great option is a backyard outdoor kitchen. A space that's close to your home is a potentially good spot. As the name implies, it doesn't have any roofing. However, we can build a garden pergola if you want to add some visual interest to your outdoor kitchen.
Covered outdoor kitchen – If you want to enjoy the same indoor comforts in your outdoor kitchen regardless of the weather, then a fully roofed structure is for you. Rest assured, your new outdoor kitchen will match or complement the architectural design of your home.
MAKING YOUR OUTDOOR KITCHEN FUNCTIONAL
There are some factors that will dictate the number and types of appliances that can be included in the installation of outdoor kitchens. Some of the factors we consider are your lifestyle, your budget, and the space available. Appliances and amenities that we usually recommend when building an outdoor kitchen include:
Grills and grill tops
Counter spaces/ cabinets
Storage spaces
Sinks
Side burners
Refrigerators and chillers
Bars
Pizza ovens
Roasters, and many more
SUPERIOR DESIGN AND QUALITY CONSTRUCTION
Your satisfaction is important to us, and so we don't start any project until we have your full approval on our design. We design using 3D CAD software to provide you a better idea of what the final result will look like. When building outdoor kitchens, we use only the highest quality building materials available to ensure that you get a long-lasting beautiful outdoor living space. We make your dream outdoor living a reality. Call us today!